Attic Ceiling Insulation
In an unfinished attic, the standard practice is to cover the attic floor with fiberglass or cellulose insulation.
Since the attic won't be used, it's a fairly straightforward process to place fiberglass batt insulation between attic floor joists or to cover the attic floor with blown-in fiberglass or cellulose.
Finished and "storage" attics present challenges
Attic insulation becomes more challenging when the attic is used as living or storage space. When this is the case, attic insulation needs to be installed in the attic ceiling. All or part of a typical attic ceiling is framed by the rafters that support the roof sheathing and shingles. There are several ways to insulate an attic ceiling:
Fiberglass batt insulation can be installed between the rafters and on top of flat ceiling sections. Insulation baffles should be installed before installing the batts to maintain ventilation space between the soffit and ridge vents.
Spray foam insulation can be applied in the space between attic rafters to provide attic ceiling insulation. However, this insulation technique eliminates the ventilation space that allows the roof to "breathe." It's also important to note that spray foam insulation can trap or retain moisture, which sometimes causes roof sheathing to rot. For these reasons, many insulation contractors prefer to use other methods of insulating an attic ceiling.
Rigid foam insulation can serve as attic roof insulation when it's installed between and/or directly beneath the attic rafters. In both cases, roof ventilation can be maintained. Dr. Energy Saver's exclusive SuperAttic® system utilizes this approach, but also includes a radiant barrier for additional energy savings. SuperAttic® provides the best overall value and performance of all attic ceiling insulation options.
Related Pages
Our Mission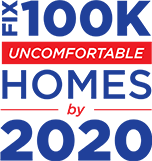 Homes Fixed
Testimonials
Nick Nason completed an insulation evaluation and upgrade at our condo last winter. As a result of his excellent work our heating costs so far this winter are 50% of what they were last winter at this time, despite much colder conditions. In addition to the financial savings the level of comfort has improved tremendously.
- Sergio in Kennebunk, ME
Rich and Eric were both caring and hard working individuals. I would recommend them to anyone. They treated me with respect and treated my house like it was their own.
- Frank in Connecticut
I chose Dr. Energy Saver over the other companies because I knew they'd really save me money.
- Edward in Edwardsville, IL