Basement Floor Insulation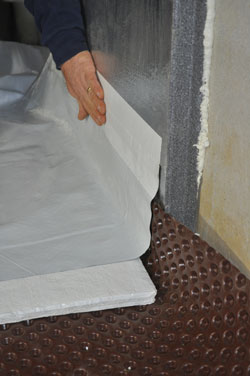 Foam for the floor. In a finished basement, rigid foam insulation can be used beneath some types of basement flooring. It's also the best type of insulation to use on basement walls, as shown here.
Today many builders install rigid foam insulation beneath the basement floor slab prior to pouring the slab for a new energy-efficient house. This under-slab insulation does an effective job of isolating the basement slab from the soil's temperature -not just in the winter, but at all times of the year.
Wall insulation trumps floor insulation in a basement
In the past and even today, under-slab insulation is often omitted. Many builders and homeowners feel that in terms of comfort and energy performance, the added cost of this type of basement floor insulation isn't outweighed by its benefits.
The bottom line in basement insulation is that it's much more important to insulate basement walls than the basement floor or ceiling. In fact, insulating basement walls eliminates the need to insulate the basement ceiling.
Insulating basement walls with rigid foam insulation will have a big impact on your home's comfort, energy efficiency and value. Basement wall insulation should be combined with air-sealing techniques that seal the many gaps, cracks and holes around the perimeter of the foundation.
Basement floor insulation can be integrated into the finished floor design
If you want floor insulation to make the basement floor more comfortable, you are probably planning to finish all or part of the basement. If this is the case, it's possible to place a layer of rigid foam insulation between the basement slab and the finished flooring material. Talk to an experienced basement finishing specialist about this insulating option.
Looking for a price? Get a no cost, no obligation free estimate.
Success Stories

Energy Saving Success Story

Tankless Water Heating Success Story
Testimonials
Rich and Eric were both caring and hard working individuals. I would recommend them to anyone. They treated me with respect and treated my house like it was their own.
- Frank in Connecticut
I chose Dr. Energy Saver over the other companies because I knew they'd really save me money.
- Edward in Edwardsville, IL