Basement Floor Insulation
A high-performance insulation solution for cold, damp concrete floors
See how ThermalDry® Insulated Floor Decking™ can give you warm basement floors and improve the comfort & energy efficiency of your whole house!
Finishing or remodeling your basement is the most economical way to expand your home's living space. Insulation is essential to make the basement more comfortable, and a well-insulated basement will improve comfort and energy efficiency throughout your home.
A concrete slab provides a solid base for a finished floor. But your floor is bound to be uncomfortably cold unless you install insulation along with the subfloor material. That's why ThermalDry® Insulated Floor Decking™ was developed.
Avoid problems with wood subflooring
Some contractors solve the "cold concrete" problem by installing plywood subflooring on a base of wood sleepers that rest on the concrete slab.
We don't recommend this approach because of wood's tendency to absorb moisture, attract mold and eventually succumb to decay. Installing a floor that will later have to be torn out is not a wise investment.
Insulate your basement floors or concrete slab the right way with this all-in-one solution from Dr. Energy Saver. Contact us today for a free installation quote!
No more cold, clammy floors. ThermalDry® Insulated Floor Decking™ is designed specifically for basement floors. The interlocking, 2-ft. X 4-ft. panels include rigid foam insulation topped with moisture-proof composite underlayment.
Benefits of ThermalDry® Floor Decking
Warm floors over concrete. A continuous layer of rigid foam insulation forms an effective thermal barrier, limiting heat loss to keep your floor comfortable.
No mold or moisture damage. ThermalDry® Floor Decking will not attract mold or be damaged by moisture.
Versatility. ThermalDry® Floor Decking provides a high-performance subfloor over any concrete slab.
Trouble-free installation. Panels interlock and don't require masonry fasteners. You install insulation & underlayment in a single step.
Floor insulation and underlayment, installed in a single step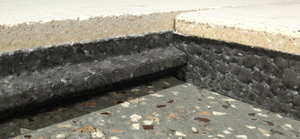 Close-up view. ThermalDry® Floor Decking is made from two waterproof inorganic materials: graphite-infused SilverGlo™ rigid foam insulation and magnesium oxide board.
Unlike wood subfloor materials that absorb moisture and attract mold, ThermalDry® Floor Decking is made from SilverGlo™ rigid foam and composite board - inorganic materials that won't be damaged by mold or moisture.
ThermalDry® Floor Decking comes in 2-ft. X 4-ft. panels that interlock with tongue & groove joints. Laying down this subfloor system achieves slab insulation and underlayment in a single step. A base layer of 1-in.-thick rigid foam insulation enables your contractor to create a continuous thermal barrier between the concrete and your finished floor. Bonded to the foam, a magnesium oxide composite provides a stable, waterproof base for the finished flooring you select for your basement.
Pro Comfort Carpeting provides a warmer, softer basement floor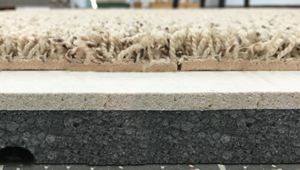 The ideal system. Installing Pro Comfort Carpeting on top of ThermalDry® Floor Decking provides the an ideal solution for covering a cold, hard concrete basement slab.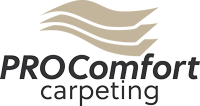 You can't beat the insulation and waterproofing of ThermalDry® Floor Decking, but it does not provide a finished floor. Pro Comfort Carpeting is the ideal finished flooring to pair with ThermalDry® Floor Decking. Pro Comfort Carpeting is made from completely inorganic materials and is 100 percent mold resistant, making it perfect for basements.
Together, Pro Comfort Carpeting and ThermalDry® Floor Decking can increase floor temperature by as much as 17 degrees, providing you with a comfortable basement floor and reducing your energy bills. Pro Comfort Carpeting comes with a modular design, allowing for easy installation and the option to replace of any damaged areas.
Ask your local Dr. Energy Saver contractor about all the benefits of installing Pro Comfort Carpeting in your basement.
Get an insulated, comfortable basement floor solution in your home
Talk to your Dr. Energy Saver dealer to schedule a free quote and to learn more about the benefits of ThermalDry® Insulated Floor Decking™ and basement insulation. It's a great first step if you want a finished basement floor that's comfortable and long lasting.
Use ThermalDry® Insulated Floor Decking™ in the basement, in a garage workshop, on an enclosed porch, or anywhere you want a comfortable, long-lasting floor over a concrete slab.
Our Mission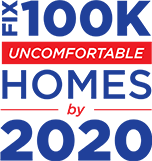 Homes Fixed
Testimonials
Nick Nason completed an insulation evaluation and upgrade at our condo last winter. As a result of his excellent work our heating costs so far this winter are 50% of what they were last winter at this time, despite much colder conditions. In addition to the financial savings the level of comfort has improved tremendously.
- Sergio in Kennebunk, ME
Rich and Eric were both caring and hard working individuals. I would recommend them to anyone. They treated me with respect and treated my house like it was their own.
- Frank in Connecticut
I chose Dr. Energy Saver over the other companies because I knew they'd really save me money.
- Edward in Edwardsville, IL