Basement Floor Insulation
High-performance solutions for insulating cold, damp concrete floors
Whether you are planning on finishing or remodeling your basement or you are simply looking to insulate your cold concrete floor, it's important to choose a solution that's resistant to moisture and mold. Dr. Energy Saver offers exclusive flooring products designed specifically for basements.
By insulating your basement floor, not only will your feet be warm, but the overall comfort and energy efficiency of your home can also be improved.
Contact Dr. Energy Saver to schedule an estimate with your local contractor. Our experts can explain all the benefits of our basement floor insulation solutions and help you choose the best solution for your home.
ThermalDry® Elite Plank Flooring
For warm, dry basement floors with the look of real wood
ThermalDry Elite Plank flooring was designed to provide homeowners with a basement flooring solution that looks like real wood plank and offers superior water resistance.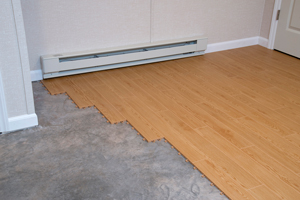 ThermalDry plank flooring installed over a concrete basement floor.
Features and benefits:
Luxurious wood plank look, design and feel. Available in a light and dark finish.
Thermal break from the cold concrete slab makes the surface temperature of the floor up to 10 degrees warmer.
Water resistant and made from inorganic materials - Won't rot, buckle or grow mold.
Raised pegs on the bottom of the plank keep water vapor from getting trapped, eliminating mold and odors.
Doesn't require subflooring - Flexible planks install easily over an uneven surface.
---
ThermalDry® Insulated Floor Decking
For a one-step subfloor and insulation solution
ThermalDry Insulated Floor Decking provides an alternative to plywood subflooring and offers an insulated, dry surface for finished basement flooring in a single application.
Watch this video to learn more about ThermalDry® Insulated Floor Decking.
Features and benefits:
Continuous layer of SilverGlo™ foam insulation reduces heat loss, warms the surface of the floor and makes a difference in the comfort of the floor.
Made from inorganic materials - won't rot or grow mold.
Saves 1-inch of ceiling height over traditional wood subfloor.
Special grooves on the bottom of the panel allow water from a basement leak to dry.
Provides a dry, even surface for your favorite finished flooring.
Get an insulated, comfortable basement floor solution in your home
If you're interested in learning more about ThermalDry Insulated Floor Decking, Elite Plank flooring or any of our basement insulation solutions, contact your local Dr. Energy Saver dealer today to request an estimate.
Our flooring products can also be installed in a garage workshop, an enclosed porch, or anywhere you want a comfortable, long-lasting floor over a concrete slab.
Our Mission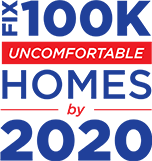 Homes Fixed
Testimonials
Nick Nason completed an insulation evaluation and upgrade at our condo last winter. As a result of his excellent work our heating costs so far this winter are 50% of what they were last winter at this time, despite much colder conditions. In addition to the financial savings the level of comfort has improved tremendously.
- Sergio in Kennebunk, ME
Rich and Eric were both caring and hard working individuals. I would recommend them to anyone. They treated me with respect and treated my house like it was their own.
- Frank in Connecticut
I chose Dr. Energy Saver over the other companies because I knew they'd really save me money.
- Edward in Edwardsville, IL