Fiberglass Wall Insulation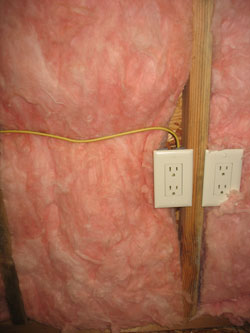 Fiberglass batts must be installed perfectly to provide maximum R-value. The void around the electrical outlet box is a common mistake made during installation.
Ever since Owens Corning developed the first fiberglass batt insulation back in 1938, this material has remained the first choice for insulating wood-frame walls. Fiberglass batt insulation is manufactured in different thicknesses and widths, based on common stud, joist and rafter spacing. It's also available unfaced or faced with a variety of materials, including kraft paper, foil-faced kraft paper and plastic. (The faced side of the batt should always be oriented toward the conditioned space, rather that toward the exterior of the building.)
The popularity of fiberglass batt insulation for use in walls is due to a combination of factors: low cost, widespread availability, easy installation and (tipping our hat to the Pink Panther®) good advertising.
However, fiberglass batt insulation's popularity has lead to some problems. Dr. Energy Saver can help you find a better solution for your insulation needs when fiberglass batts won't make the cut. Your local dealer will inspect your walls to decide upon the best option!
Fiberglass wall insulation isn't always the best choice
The fact that fiberglass batt insulation is easy to install using basic tools comes with an important caveat: Even small installation errors can dramatically diminish the insulation's performance. It's very difficult to complete a fiberglass insulating job without leaving a few gaps in coverage, and even a small void can diminish a wall's overall R-value by 50%.
Compared to other insulation materials, fiberglass has a relatively low R-value per inch (between R-3 and R-3.8). Fiberglass loses R-value when it's compressed, overly "fluffed" or wet. Fiberglass batts aren't suitable for use in areas like basements or crawl spaces because of moisture issues and the material's tendency to support mold growth. Permeability is another disadvantage. Fiberglass can't stop air leaks, even when it's perfectly installed. To attain its maximum R-value, fiberglass batt insulation must be in a "still" space, undisturbed by air leakage.
Upgrading wall insulation with dense-pack cellulose and injection foam
Wood-frame walls that are uninsulated or poorly insulated with fiberglass can be upgraded with two types of insulation that are injected into wall cavities: dense-pack cellulose and injection foam. These wall insulation upgrades are becoming more and more popular as families seek protection from rising utility costs.
To install new cellulose or injection foam insulation in existing walls, access holes are first drilled to provide injection points in each stud cavity. Then the installation crew pumps foam or cellulose insulation into each wall cavity, plugging the access hole when the cavity is full. Injection foam is especially good at flowing around existing fiberglass batts, filling voids completely, and eliminating air leakage that causes drafts and energy loss inside the house.
Dr. Energy Saver has ample experience installing these types of insulation in your home. No matter what state your wall insulation is in, we have the solution you need. Get in touch with your local dealer today!
Our Mission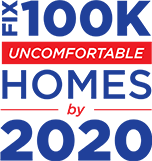 Homes Fixed
Testimonials
Nick Nason completed an insulation evaluation and upgrade at our condo last winter. As a result of his excellent work our heating costs so far this winter are 50% of what they were last winter at this time, despite much colder conditions. In addition to the financial savings the level of comfort has improved tremendously.
- Sergio in Kennebunk, ME
Rich and Eric were both caring and hard working individuals. I would recommend them to anyone. They treated me with respect and treated my house like it was their own.
- Frank in Connecticut
I chose Dr. Energy Saver over the other companies because I knew they'd really save me money.
- Edward in Edwardsville, IL