Home Energy Experts
Let us help your home save energy
and be more comfortable
Dr. Energy Saver performs home energy-saving services such as adding home insulation, installing and upgrading furnaces and water heaters, replacing windows and doors, and more. We also perform comprehensive home-energy evaluations to help you discover where your home is using, losing, and wasting energy.
Here's How Our Homes Use Energy
Heating and cooling make up the largest percent of energy usage in a home - but it's not just the HVAC system that affects this number. Insulation, leaky ductwork, and air leakage are also factors.
We can definitely add more insulation, upgrade your HVAC equipment, seal air leakage, install a radiant barrier, and more, and we can also help you identify which repairs and services will save you the most money on your home energy bills with our home energy evaluation!
A Home Energy Evaluation with Every Estimate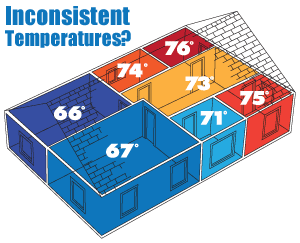 Tired of Hot & Cold Rooms?
Dr. Energy Saver will find and fix your home energy problems, enhancing the comfort of your home and reducing utility bills. With one call, we deliver comfort, green living, savings, and a healthier home!!
Your house is made up of many systems that serve your needs - lighting, hot and cold water, comfortable indoor temperatures, healthy air quality, and power for appliances and plenty of other electrical devices. These systems interact, which means that when one system isn't working like it should, it affects the way other systems work.
For example, leaks in your duct system make your heating and cooling systems work harder, wasting energy and costing you money.
Dr. Energy Saver's Home Energy Evaluation identifies the efficiency of your home's systems. Let us perform a Home Energy Evaluation, and we'll help show you where your home energy losses are, and we can even fix many of them at the same time! Contact us today to get started!
About Dr. Energy Saver
All Dr. Energy Saver dealers are fully trained at the corporate headquarters in Seymour, Connecticut. Thanks to comprehensive training and in-depth support, Larry's vision for Dr. Energy Saver is a sure bet: A company devoted to correcting energy-hogging homes and helping homeowners enjoy more comfort while spending much less on energy. You can learn more about Dr. Energy Saver on your About page.
Looking for a price? Get a no cost, no obligation free estimate.
Success Stories
Energy Saving Success Story
Tankless Water Heating Success Story
Testimonials
Rich and Eric were both caring and hard working individuals. I would recommend them to anyone. They treated me with respect and treated my house like it was their own.
- Frank in Connecticut
I chose Dr. Energy Saver over the other companies because I knew they'd really save me money.
- Edward in Edwardsville, IL