High-Quality Replacement Doors
Just like windows, new doors can help you save energy
Each replacement door deserves an airtight and durable seal.
The benefits of installing a new entry door go beyond sealing out the weather and improving your home's energy saving. Replacing an entry door is a great way to pump up any home's curb appeal. If you're going for this upgrade, look for a door that qualifies as an Energy Star product, and consider the merits and limitations of different door materials as explained below.
Dr. Energy Saver dealers are trained and certified experts on replacement doors. We'll be able to tell you which kind is best for your home. Contact your local dealer to schedule a home energy audit and discover all the ways you can save on energy costs!
Door materials make a difference
Insulation and weatherstripping are the most important ingredients in an energy-efficient door, but the visible outer surface determines how good a door looks, how long it lasts, and how much it costs. These material choices also apply if you want a door that contains insulated glass.
Fiberglass doors. This is the door that many people prefer because it's got all the best qualities: strength, durability, energy efficiency and a good variety of style choices. The best-quality fiberglass doors can be made to look remarkably like genuine wood. Beneath the fiberglass exterior skin, there's a core of foam insulation.
Solid wood. The most traditional choice for an exterior door is also the least energy efficient. While it may be historically appropriate for an old house, a solid wood door will swell and shrink with temperature and humidity changes. It can also warp, bow and crack, making it difficult to maintain a weather-tight seal, no matter how carefully weatherstripping is installed.
Insulated wood doors. This is a good compromise if you want the look of a solid wood door without all of its problems. This type of door has a foam insulation core covered by wood veneer, with narrow solid wood strips along all door edges.
Steel doors. With a foam core and steel skin, this type of door is solid, stable, durable and energy efficient. Style choices are limited, but you get good value for the money.
PVC doors. These doors are very similar to fiberglass doors in appearance and construction.
Prehung replacement doors are the way to go
If you need a new exterior door, it's usually better to install a prehung door than to attempt to fit a new door in an old opening. The term "prehung" means that the door comes already installed in its opening, so the jambs and hinges are already in place.
With a quality prehung door, there's no doubt about getting a solid, snug fit in the door jamb, and weatherstripping is already installed. Some prehung doors are actually part of an "entry door system" that can include fixed side lites and transom lites. When buying this type of door, make sure that the fixed glass "lites" are insulated (double-pane) glass.
We also offer sliding glass doors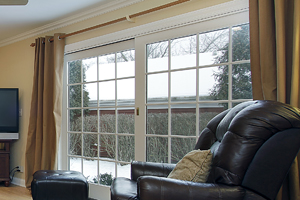 Beauty, efficiency & a lifetime warranty. Get all the important benefits that homeowners look for in a new sliding glass door.
Sliding glass doors are also referred to as sliding patio doors or simply sliding doors or sliders. Whatever label you choose, there's no mystery to why these doors are so popular. Sliding glass doors provide a great view of your property while letting in plenty of natural light.
Older sliding glass doors are prone to a number of problems that can frustrate homeowners, including air leakage and difficult operation. If your sliding glass doors have any of these issues, it's wise to consider replacing them with new units from a leading sliding door company like Sunrise. Sunrise doors are made from durable vinyl, come in a variety of colors, and are equipped with a lifetime warranty.
Get started on your door replacement needs
For the best in replacement door products, trust your local Dr. Energy Saver. Our contractors only use high-quality, energy-efficient solutions on every job - contact Dr. Energy Saver today by clicking below to schedule a home energy audit or replacement door estimate!