Duct Cleaning
Expert air duct cleaning ensures healthy indoor air quality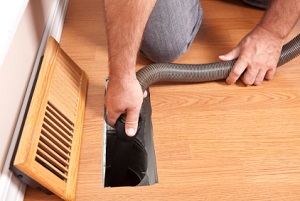 Duct cleaning clears the passageways of your ductwork system so that dirt, pollen, dust, and other potential irritants won't be distributed throughout the house.
As your ductwork system delivers air throughout your home, it can also bring allergens, dust particles, bacteria, and other irritants. Although your HVAC system has a filter, this won't prevent the inside of the ducts from getting dirty.
The spread of pollutants will affect your home's air quality and can lead to allergic reactions. Dr. Energy Saver can help you prevent these problems in your home with our complete duct cleaning services. Duct cleaning will eliminate allergens and pollutants and ensure your home is getting clean air. Contact your local dealer today to learn more about how we can help you!
Ductwork cleaning helps to avoid health problems
Indoor air pollution is a significant health issue, as it can trigger asthma attacks and cause respiratory ailments and allergic reactions. Duct cleaning doesn't eliminate all indoor air pollutants, but it can help minimize them.
If dust accumulates quickly and thickly on flat surfaces in your house, it's likely your ducts need to be cleaned. Dr. Energy Saver uses special equipment designed to suck dirt and other debris from the interior of your ductwork system, which usually takes a day or less to complete. It's usually recommended that ducts be cleaned every two years, but some homeowners choose to have ductwork cleaning done every year.
Duct cleaning will reduce the number of pollutants and allergens in your home, giving you better air quality. This is a great benefit for anyone who lives in the home but is especially important for those with asthma, allergies, or other respiratory conditions.
Keep your air quality at its best with expert duct cleaning
If you're interested in having your ducts professionally cleaned, Dr. Energy Saver can help. We offer complete ductwork solutions to help improve your home's air quality, comfort, and efficiency. Contact your local dealer today to get an estimate!