Attic Insulation
Put an end to uncomfortable rooms and high utility bills with improved attic insulation
Larry Janesky, owner and president of the network of Dr. Energy Saver attic insulation companies, explains how the "stack effect" can make an uninsulated attic a huge source of energy loss.
In the winter, heated interior air rises naturally by convection and escapes into the attic through air leaks. A poorly insulated attic allows that heat to escape right out of the house, wasting your money. Conductive heat loss through the cold ceiling makes rooms directly beneath the attic even colder.
The problem reverses on a hot summer day as attics can reach 140℉ or higher! This hot air then moves into your living space, creating uncomfortably hot rooms that are expensive to cool. In many homes, these overheated rooms are bedrooms, adding to the homeowner's frustrations.
If you're worried about insufficient attic insulation in your home, your local Dr. Energy Saver dealer can help! Our experts will evaluate your attic and recommend the best solutions to improve your home's energy efficiency.
Think your attic insulation is up to par? Think again!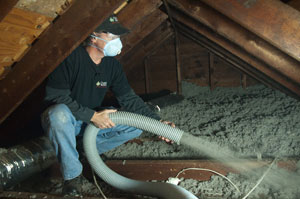 Cellulose insulation is the ideal way to upgrade attic insulation and improve R-value.
The U.S. Department of Energy recommends homes in southern climates have 13-14 inches (R-38) of insulation, while homes in northern climates should have 16-18 inches (R-49). However, according to the Insulation Institute, an incredible 90% of homes are under-insulated.
That means homeowners everywhere are losing money and dealing with uncomfortable temperatures in their houses. Unless you've recently had a duct encapsulation and insulation upgrade, your home is likely among them. Unfortunately, local building codes only stipulate minimum performance standards, which are far below what home energy experts recognize as necessary today, which is part of how this problem has become so widespread.
How we fix under-insulated attics
At Dr. Energy Saver, we understand how to take care of insulation problems in your attic. Here's how we fix your home:
Inspect and test your attic to identify problem areas.
Air seal your attic to eliminate the drafts and leaks that allowed conditioned air to escape your home in the winter and let humid air in the attic in the summer.
Duct sealing and insulation, as well as duct encapsulation to prevent conditioned air from being wasted as it travels through your duct system.
Install insulation up to the correct level your home requires, ensuring you have a comfortable, efficient home.
An attic insulation upgrade can cut your heating & cooling costs by as much as 40%! More importantly, it will restore comfort to rooms that get too hot or too cold at different times of the year, and it's a once and done upgrade that won't wear out or require maintenance.
The Smart Money Guarantee
Upgrading your attic insulation will not only improve your home's comfort and energy efficiency, but it will also save you money. We're so confident in this that we offer the Smart Money Guarantee, promising that if in 10 years your savings do not match or exceed the total cost of your project then we will refund you the difference!
If your home needs any of these upgrades, you may qualify for our Smart Money Guarantee program:
Attic duct encapsulation
Attic air sealing
Attic hatch & pull-down stairs air sealing
Can light covers
Chimney chase & major opening sealing
Vented knee wall space sealing
Insulating with cellulose
Creating a conditioned attic
Call Dr. Energy Saver for superior attic insulation solutions
If you're in search of a more comfortable, cost-effective home, checking attic insulation is a great place to start. Dr. Energy Saver contractors excel in solutions for all kinds of attic insulation problems.
Whether you need air sealing, spray foam, blown cellulose, or any other insulation solution, we can help. Contact Dr. Energy Saver today to schedule a free estimate with your trusted local attic insulation company!