The Stack Effect
If you've been watching videos or reading articles about home energy efficiency, you most likely heard or saw the term "stack effect" used several times. Building scientists are always very concerned with the stack effect and how it impacts energy consumption and comfort.

The "stack effect" is a physics phenomenon that occurs in every single building, every house -- including yours.
It causes the warm air inside any closed structure to rise and escape through the higher portions of the building. As a result, a negative pressure area is created at the lower levels of the building, causing a lot of unconditioned air from the outside to be sucked in through areas like crawl spaces and basements.
If you are running a heating or air conditioning system in your home, all the air that you are paying for is not staying in the living space. Instead, it is constantly leaking out from the top of your house. Unconditioned air is then being sucked in to make up for the air that is leaking out, and your HVAC system is working harder than ever to keep up with all the loss and intake.

While the concept is not hard to grasp, it is hard to imagine exactly how much it impacts your comfort and energy bills until you can actually see it in action.
And this is exactly what Larry Janesky will demonstrate in this episode of the On the Job video series. Using a diagnostic device called a digital micromanometer, Larry will demonstrate the enormous impact the stack effect has in terms of energy efficiency by measuring the differences in pressure between different areas of the house, and the outside.
After that demonstration, Larry uses a smoke pen to demonstrate how the air leaks in and out of the building.
Building science is continuously evolving, and at Dr. Energy Saver all our technicians are trained to keep up with the latest advances in diagnostic and problem solving technologies, to always provide you with the best and most cost effective energy saving services.

Experience the Dr. Energy Saver difference. Call or visit our website to locate a certified dealer near you.
For more on building science and energy saving solutions, watch our other On the Job videos and subscribe to our YouTube channel for the latest updates.
Our Mission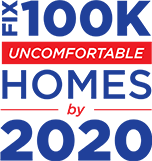 Homes Fixed
Testimonials
Nick Nason completed an insulation evaluation and upgrade at our condo last winter. As a result of his excellent work our heating costs so far this winter are 50% of what they were last winter at this time, despite much colder conditions. In addition to the financial savings the level of comfort has improved tremendously.
- Sergio in Kennebunk, ME
Rich and Eric were both caring and hard working individuals. I would recommend them to anyone. They treated me with respect and treated my house like it was their own.
- Frank in Connecticut
I chose Dr. Energy Saver over the other companies because I knew they'd really save me money.
- Edward in Edwardsville, IL