Ductwork Problems and Solutions from Dr. Energy Saver
Don't let leaky, poorly insulated ducts make your home uncomfortable and expensive to heat and cool.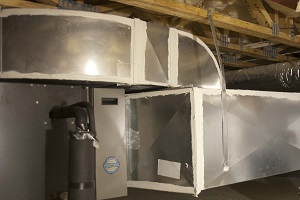 A good seal. Duct mastic – not duct tape – is the professional way to seal the inevitable gaps found in ductwork.
Any house with forced-air heating or central air conditioning will have a ductwork system. "Supply" ducts distribute air that's been heated throughout your living space. "Return" ducts carry air back to your furnace or AC unit to be reconditioned and then recirculated.
Ductwork services and solutions from Dr. Energy Saver
Free ductwork inspection and Free Estimates for all recommended duct repairs.
Expert testing of ductwork system.
Duct sealing to eliminate leaky ducts.
Duct insulation to improve HVAC system efficiency.
Ductwork system balancing to equalize supply and return air
Ductwork defects cause comfort, energy and health problems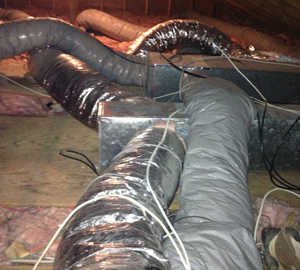 Ducts in attic. If your heating and cooling ducts are located in an unconditioned attic, such as shown here, you are losing hundreds of dollars annually due to heat loss from ducts in winter and heat gain in summer.
Supply and return registers are the only visible signs of the ductwork system when you walk around your house. But behind these grills is an extensive network of air passageways fabricated from different duct materials.
Defects in a duct system can waste hundreds of dollars a year by forcing your HVAC system to run longer than necessary.
Ductwork problems also make certain rooms too hot or too cold at different times of the year, while introducing dirt and bad odors into your forced-air system.
Leaks can occur regardless of the air duct materials, but Dr. Energy Saver can repair all of your ductwork issues.
Dr. Energy Saver provides expert diagnosis and repair of 3 common ductwork problems
PROBLEM #1: Duct leakage causes conditioned air to escape before it reaches certain rooms, causing comfort and energy problems. Leaks in return ducts suck dust and dirt into the system.
SOLUTION: Detect leaks with an HVAC air flow test and seal them with special mastic or spray foam.
PROBLEM #2: Missing or inadequate ductwork insulation works against the HVAC system during heating and cooling seasons, forcing the HVAC system to heat or cool the ductwork before proper temperature air can reach a room. HVAC costs escalate, and some rooms stay too hot or too cold even when the HVAC system is operating.
SOLUTION: Insulate all ductwork that runs in unconditioned spaces (attic, basement, crawl space, garage).
PROBLEM #3: Unbalanced air flow due to register location causes some rooms to get too much heat or cooling, while other parts of the house get too little.
SOLUTION: Install transfer grills or jumper ducts to balance the flow of supply and return air.
Duct Solution Videos
Learn more about how defects in your HVAC ductwork cause thermal comfort and energy problems, and see how Dr. Energy Saver solves these problems with state-of-the-art energy-saving solutions.
Our Mission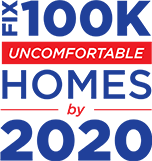 Homes Fixed
Testimonials
Nick Nason completed an insulation evaluation and upgrade at our condo last winter. As a result of his excellent work our heating costs so far this winter are 50% of what they were last winter at this time, despite much colder conditions. In addition to the financial savings the level of comfort has improved tremendously.
- Sergio in Kennebunk, ME
Rich and Eric were both caring and hard working individuals. I would recommend them to anyone. They treated me with respect and treated my house like it was their own.
- Frank in Connecticut
I chose Dr. Energy Saver over the other companies because I knew they'd really save me money.
- Edward in Edwardsville, IL