Duct leakage and sealing a leaky duct systems
Don't force your HVAC system to run in place
Larry Janesky, founder of Dr. Energy Saver, was recently in Florida helping a homeowner solve a problem many other homeowners in the southeast have and don't even know about: ducts in the attic.
Your legs are pumping, your feet are pounding the pavement, you're huffing and puffing, but it doesn't feel like you're going anywhere. That's what it's like for your HVAC system if you have leaky ducts.
Let's take a closer look: Your system turns on to keep your home comfortable, and the fan kicks on to start circulating air. As soon as the fan gets up to speed, your leaky return ducts start to suck in air from your hot attic or cold basement or crawl space.
Instead of dealing with air returning from your house at indoor temperatures, your system encounters unconditioned air that's much hotter or colder. Your furnace or air conditioner has to work extra hard to make this air the right temperature.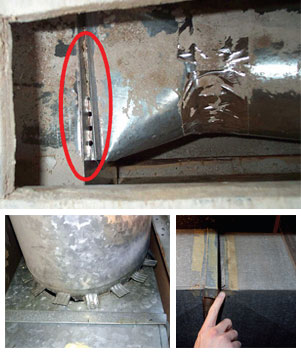 Where ducts leak. Joints between duct sections are common leak locations. Unsealed leaks force your HVAC system to work overtime, while also causing indoor air quality problems.
Okay that's bad, but that's only the half of it. Now you've got air that's not quite "cold enough" or "warm enough" traveling down your supply duct system, and your leaky supply ducts let some of this air (which you've already overpaid to heat or cool) leak out instead of delivering it to your home. As a result, your system needs to be larger and run longer and you have uncontrolled "bad air" leaking into your living space. Your allergies flair up, and your house is dirty and dusty even a day or two after cleaning. Okay, so ducts are really important... yeah, really important.
Dr. Energy Saver can ensure that your ducts don't cause you any problems. Contact your local dealer today to perform ductwork needed in your home!
Balancing Air Duct Supply and Return
What Goes In (must) = What Goes Out. Efficient HVAC performance depends on balanced airflow. The air volume your system returns from your house should equal the air volume your system supplies to it. If one is greater than the other, there is an air pressure imbalance. Negative pressure in a room can act like a vacuum, pulling air into the room from outside or from "bad" sources like a crawl space or attic. Drafty or uncomfortable rooms may be the result of imbalanced airflows.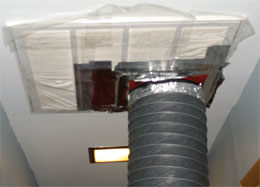 How we find leaks. "Duct blaster" test measures energy-wasting duct leakage.
Diagnose Duct Problems, Then Solve Them
It takes the right tools and good diagnostic skills to detect duct leakage and other duct problems. When Dr. Energy Saver tests your ductwork system, you will see instantly how you are losing energy and wasting money. You'll also find out if your ductwork system is causing pressure imbalances that can encourage outside air to leak into your house.
Sound Sealing Strategies - Caulk it, Foam it, Seal it!
What follows after leak detection is leak sealing. The best sealing strategy for your ductwork depends not only on the type of ductwork, but also on the accessibility of the leaking ducts. Dr. Energy Saver has the right tools, specialized materials and professional techniques to do a sealing job that's effective and durable to improve your comfort and indoor air quality while also saving you money!
Only a quack would use "duck tape" on ductwork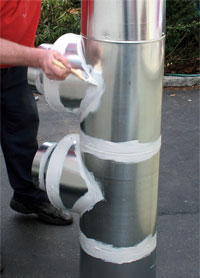 Applying mastic. What follows after leak detection is leak sealing.
Duct tape has thousands of uses, but it shouldn't be used on ductwork. This tape was originally developed during World War II to keep moisture out of ammunition cases. Servicemen appreciated the tape's waterproof qualities and the fact that the cloth backing was made from cotton duck cloth, so the name "duck tape" was coined. After the war, duck tape became "duct tape" when contractors began using it to seal ductwork. But time has taught us that duct tape dries out and disintegrates when used on ductwork. Its sealing effectiveness doesn't last very long. So, the moral of the story is that duct tape is handy to have around, but not very useful when it comes to actually repairing ducts.
Air Ducts Need Insulation Too!
Without adequate insulation, the conditioned air that you paid to heat or cool travels through your ductwork with little or no protection against extreme air temperatures. Imagine a sheet metal duct system in a sweltering attic on a hot summer day. How much do you think cool conditioned air might warm up as it flows through hot ducts? Or, how about heated air running through ducts in a freezing crawl space? How much do you think this heated air will cool down as it passes through freezing ductwork? These energy losses can really add up fast, and they have a negative effect on comfort as well as energy efficiency.
Adding insulation can help to reduce energy losses in duct runs. Dr. Energy Saver will know the best type of insulation, as well as the proper insulation levels to use to make your ductwork work properly and maximize your home energy savings.
Our Mission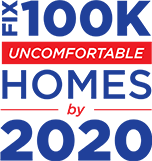 Homes Fixed
Testimonials
Nick Nason completed an insulation evaluation and upgrade at our condo last winter. As a result of his excellent work our heating costs so far this winter are 50% of what they were last winter at this time, despite much colder conditions. In addition to the financial savings the level of comfort has improved tremendously.
- Sergio in Kennebunk, ME
Rich and Eric were both caring and hard working individuals. I would recommend them to anyone. They treated me with respect and treated my house like it was their own.
- Frank in Connecticut
I chose Dr. Energy Saver over the other companies because I knew they'd really save me money.
- Edward in Edwardsville, IL