Electric Furnaces
An electric furnace uses electric resistance elements (like the heating coils inside a toaster) to heat air that is distributed throughout the house through a ductwork system. Supply ducts convey the heated air to different rooms, while return ducts bring cooler air back to the furnace to be reheated. The "air handler" attached to the electric furnace contains a large, electrically powered blower that moves air through both supply and return ducts.
Inexpensive to install, but expensive to operate
Furnaces that burn oil, natural gas or propane fuel are more expensive than electric furnaces because they require pumps, fuel lines, flues and heavy-duty, heat-resistant combustion chambers. An electric furnace has no moving parts except for the blower. It doesn't require a flue, so it can be installed just about anywhere.
While builders like the affordability, simplicity and low cost of electric furnaces, homeowners soon come to dislike this heating option for one major reason: high operating cost. Even though an electric furnace has a high efficiency rating, or AFUE (annual fuel use efficiency), electricity is very expensive to use for whole-house heating. It's not uncommon for homeowners to pay twice as much to heat with an electric furnace than they would to heat with fuel oil or natural gas.
Switching from an electric furnace to a heat pump
In a home that's heated with an electric furnace, a good HVAC system upgrade to consider is switching to a heat pump system. A heat pump consumes electricity but performs much more efficiently than an electric furnace. A ground-source, or geothermal heat pump is a "green" upgrade because it utilizes a renewable energy source (the earth's temperature), and operates very efficiently at all times of the year. Most heat pump HVAC systems (both air-source and ground-source) provide cooling as well as heating.
Our Mission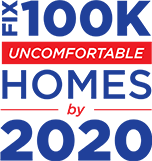 Homes Fixed
Testimonials
Nick Nason completed an insulation evaluation and upgrade at our condo last winter. As a result of his excellent work our heating costs so far this winter are 50% of what they were last winter at this time, despite much colder conditions. In addition to the financial savings the level of comfort has improved tremendously.
- Sergio in Kennebunk, ME
Rich and Eric were both caring and hard working individuals. I would recommend them to anyone. They treated me with respect and treated my house like it was their own.
- Frank in Connecticut
I chose Dr. Energy Saver over the other companies because I knew they'd really save me money.
- Edward in Edwardsville, IL