"I want to make my house more comfortable."
Making your home MORE COMFORTABLE also makes it LESS EXPENSIVE to heat and cool. That's the great news about the comfort-enhancing improvements that Dr. Energy Saver can make in your home. In fact, improving your home's comfort will also…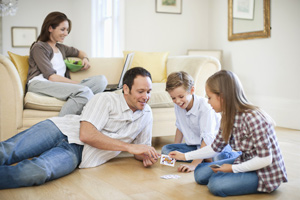 lower your electric and fuel bills.
take full advantage of your available living space, by eliminating areas that are too hot or too cold at certain times of the year.
mean less discomfort from eye irritation and certain allergies.
increase your home's resale value.
improve indoor air quality.
help protect the environment by reducing carbon emissions.
Stop sweating indoors in the summer, or shivering in the winter!
In doesn't make sense to put up with indoor comfort problems –especially when they force you to spend extra money on heating and cooling your house. Dr. Energy Saver's "ABC" strategy for improving comfort and energy efficiency will permanently solve home comfort problems so that you can enjoy your home like never before.
To find out more about specific improvements that will make your home more comfortable, click on the Related Pages listed below, or simply call Dr. Energy Saver for a free home comfort consultation.