Duct Air Sealing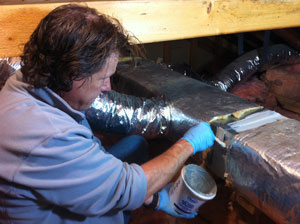 Mastic makes a difference. Duct leakage often occurs along joints where duct sections meet. Coating joints with flexible duct-sealing mastic usually solves the problem.
In a house that has central air conditioning or forced-air heating, a ductwork system is used to distribute conditioned (cooled or heated) air to living spaces. "Supply" ducts convey conditioned air from the furnace or central AC unit to living spaces, while "return" ducts bring air back to the centrally located air handler to be reconditioned.
Ducts can be a major cause of energy loss in your home if they aren't sealed and insulated. Dr. Energy Saver can inform you if your ducts need sealing. Find your local contractor by clicking below!
Sealing air ducts increases comfort while decreasing HVAC expenses
According to the U.S. Department of Energy, in a typical house, 20% of the air moving through the ductwork system is lost because of duct leaks. Duct leakage forces your HVAC system to work harder and longer in order to meet the temperature setting on your thermostat. Leaky ducts also cause "bad" air from your basement, crawl space or attic to be drawn into your system and distributed throughout the house.
Duct sealing is an affordable energy-saving upgrade that will pay off by improving interior comfort and air quality while reducing your utility bills. It's smart to have this work done by an experienced professional because a typical ductwork system contains different duct materials and many different fittings and connections. An energy technician familiar with air duct sealing will know what materials and duct sealing techniques work best on different parts of your ductwork system.
Don't Forget Duct Insulation
Along with duct sealing, it's worthwhile to have at least some of your ductwork insulated. If you have ductwork located in crawl space, basement and attic areas, just think how cold or hot these areas become at different times of the year. Insulating ductwork in these areas will prevent cooled air from being heated by hot ducts in the summer. In wintertime, insulated ductwork protects heated air from frigid temperatures in a crawl space or attic.
Once-and-done improvements!
Remember, duct sealing and duct insulation are affordable energy-saving upgrades that require no maintenance or replacement ever. You pay for these upgrades once and then enjoy improved comfort and energy savings for as long as you own your house.
To see the benefits of these upgrades in your home, trust a Dr. Energy Saver dealer to get the best results. Our trained and certified dealers will use proven products in your home that are designed and manufactured to last!
Our Mission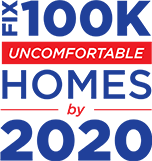 Homes Fixed
Testimonials
Nick Nason completed an insulation evaluation and upgrade at our condo last winter. As a result of his excellent work our heating costs so far this winter are 50% of what they were last winter at this time, despite much colder conditions. In addition to the financial savings the level of comfort has improved tremendously.
- Sergio in Kennebunk, ME
Rich and Eric were both caring and hard working individuals. I would recommend them to anyone. They treated me with respect and treated my house like it was their own.
- Frank in Connecticut
I chose Dr. Energy Saver over the other companies because I knew they'd really save me money.
- Edward in Edwardsville, IL