Basement insulation
Rigid foam outperforms fiberglass in below-grade applications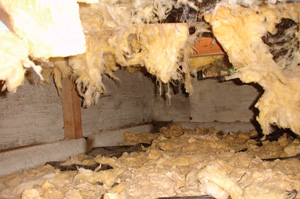 Fiberglass failure. Fiberglass batts don't perform well when installed between ceiling joists in a basement or crawl space. They can absorb moisture, compress, lose R-value and eventually fall out of place.
For many years, the standard insulating strategy for basements and crawl spaces was to install fiberglass batts between the ceiling joists in the basement or crawl space.
Builders got into the habit of using fiberglass insulation in below-grade applications because of its widespread availability and low cost.
But it doesn't take long for the moist conditions in a basement or crawl space to cause problems with fiberglass batt insulation.
When batts absorb moisture, they lose their insulating value, compress, grow heavy from water weight, and often fall out of place. Fiberglass batts also promote the growth of mold, especially if they have a paper facing.
Basement & crawl space insulation done right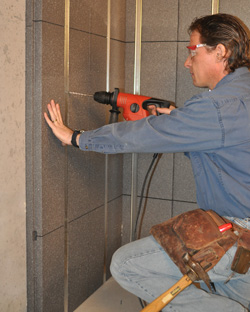 Permanent solution. Rigid foam insulation can be installed against foundation walls with adhesive and masonry fasteners.
Rigid foam insulation can do all the things that fiberglass can't in below-grade applications. It won't absorb moisture, lose R-value, support mold growth, compress or fall out of place.
This type of insulation comes in panel form; different thicknesses and foam formulations are available. In basements and crawl spaces, rigid foam insulation is usually installed against the foundation wall.
By changing the location of the insulation, the basement or crawl space can be brought inside your home's "building envelope."
This energy-saving upgrade will also make your basement more comfortable and less attractive to mold.
When your foundation walls are insulated with rigid foam, Dr. Energy Saver can also seal and insulate the rim joist in your basement or crawl space to eliminate this major source of air infiltration.
Looking for a price? Get a no cost, no obligation free estimate.
Success Stories

Energy Saving Success Story

Tankless Water Heating Success Story
Testimonials
Rich and Eric were both caring and hard working individuals. I would recommend them to anyone. They treated me with respect and treated my house like it was their own.
- Frank in Connecticut
I chose Dr. Energy Saver over the other companies because I knew they'd really save me money.
- Edward in Edwardsville, IL