Basement Insulation
A more comfortable home & lower energy costs starts from the ground up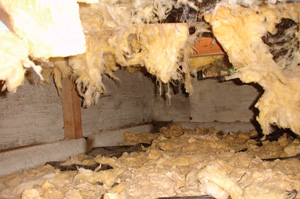 Fiberglass failure. Fiberglass batts don't perform well when installed between ceiling joists in a basement or crawl space. They can absorb moisture, compress, lose R-value and eventually fall out of place.
Don't put up with a basement that's too damp, too cold and too uncomfortable to be of much use. Basement insulation can solve all these problems. But it's important to install the right kind of insulation, in the right location and in the right way.
Your local Dr. Energy Saver contractor can inspect your home and help you decide on the best insulation solutions for your basement.
Ceiling insulation doesn't do anything to insulate your basement
"My basement is already insulated with fiberglass batts."
It's a common misconception that fiberglass installed between basement ceiling joists counts as basement insulation. It doesn't. Basement ceiling insulation is actually insulating the space above the basement, not the basement itself. Fiberglass batts really shouldn't be used anywhere in the basement, because of numerous problems.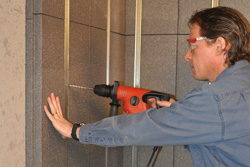 Permanent solution. Rigid foam insulation can be installed against foundation walls with adhesive and masonry fasteners.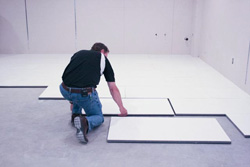 One-step solution. ThermalDry™ Decking combines rigid foam floor insulation with moisture-proof & mold-proof subflooring.
Innovative basement wall & floor insulation products made from rigid foam
Unlike fiberglass batts, rigid foam insulation won't absorb moisture, compress, lose R-value or fall out of place. It's got ideal characteristics for use in the basement, which is why we recommend two innovative basement insulation products: SilverGlo™ basement wall insulation and ThermalDry™ insulated subfloor panels.
Putting rigid foam insulation on basement walls will make your basement and your entire house more comfortable and more energy efficient. SilverGlo™ panels are made with tiny graphite particles that reflect heat and provide superior R-value. The rigid foam panels also boast a radiant barrier, which reflects heat back into your basement.
For maximum energy savings and comfort, it's best to insulate both the walls and floors of your basement. If you plan to install finished flooring when remodeling the basement, it's smart to install ThermalDry™ Insulated Floor Decking™ first. These interlocking, 2-ft. X 2-ft. squares combine rigid foam insulation and special moisture-proof underlayment. You install basement floor insulation and subflooring in one step – a great start for the finished floor of your choice.
When your foundation walls are insulated with rigid foam, your Dr. Energy Saver contractor can also seal and insulate the rim joist in your basement or crawl space to eliminate this major source of air infiltration.
Looking for a price? Get a no cost, no obligation free estimate.
Testimonials
Nick Nason completed an insulation evaluation and upgrade at our condo last winter. As a result of his excellent work our heating costs so far this winter are 50% of what they were last winter at this time, despite much colder conditions. In addition to the financial savings the level of comfort has improved tremendously.
- Sergio in Kennebunk, ME
Rich and Eric were both caring and hard working individuals. I would recommend them to anyone. They treated me with respect and treated my house like it was their own.
- Frank in Connecticut
I chose Dr. Energy Saver over the other companies because I knew they'd really save me money.
- Edward in Edwardsville, IL