SaniDry Dehumidifier Installation
Energy-efficient, self-draining systems for basements & crawl spaces
The SaniDry Sedona removes more water for the same electricity cost as standard dehumidifiers.
SaniDry dehumidifiers and filtration systems dry and filter the air in your basement or crawl space, reducing moisture and eliminating mold and musty odors. The SaniDry Sedona and SaniDry XP models are not only ENERGY STAR certified, but they remove more water from the air than a standard dehumidifier, yet use the same energy.
There are many ways that a SaniDry system can help your home:
Keeps relative humidity below 55%, eliminating mold and dust mites
Filters mold spores, dust, dust mite droppings and other pollutants from your air
Dries furnishings, walls, floors, and other surfaces, eliminating the sticky/clammy feeling

Dr. Energy Saver is an exclusive dealer of SaniDry dehumidifiers. Call 1-866-632-5870 or click below to schedule a consultation and estimate with your local installer.
How a SaniDry dehumidifier solves humidity problems
A MERV 8 filter removes mold spores, dust mites, dust mite droppings from your air.
Mold and mildew thrive in moist conditions, like the basement and crawl space. Dust mite droppings are the #1 indoor allergen. A SaniDry dehumidifier will keep your home below 55% relative humidity, so mold and dust mites won't survive. Both SaniDry models drain automatically so there are no buckets of water to empty. The SaniDry Sedona and the SaniDry XP offer several other unique features and benefits:
SaniDry Sedona
The SaniDry Sedona removes over 95 pints of water from the per day and moves over 300 cubic feet of dry air per minute around the basement or crawl space. This dries the building materials and contents in your basement, getting rid of musty odors. The Sedona removes 2.9 liters of water per kilowatt hour. This means you can save on electricity costs while maintaining a dry, healthy and comfortable home.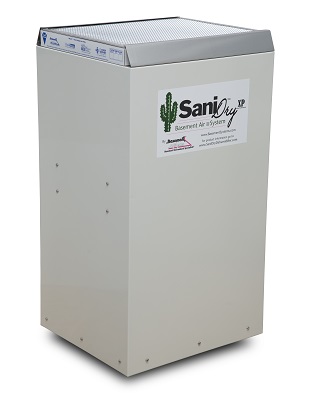 The SaniDry XP will dry the air and automatically drain the water.
World's most efficient dehumidifier without a bulky heat exchange core
Small size fits in crawl spaces and takes up minimal space in basements
Filters mold spores, dust mite droppings, dust and other particulates from the air
SaniDry XP
The SaniDry XP is a powerful dehumidifier that outperforms standard household dehumidifiers by as much as 10 times at 65°, while using the amount of energy to run. The SaniDry XP can remove 109 pints of water from the air per day and circulates 300 cubic feet of dry air per minute.
Drains automatically - no buckets of water to empty
Simple automatic controls
Ideal for basements and crawl spaces over 40" high
Get an estimate on dehumidifier installation for your home
Contact Dr. Energy Saver to learn how you can achieve a more comfortable, healthy home today with a SaniDry dehumidifier and other humidity control solutions. Our products are installed by trained, experienced specialists, so you can be sure you're getting a comprehensive solution for your home.