Book of Solutions - A Home Performance Contracting Game Changer!
The Book of Solutions is our exclusive encyclopedia of the problem building assemblies that cause comfort and energy wasting issues for homeowners and the solutions you sell and install to fix uncomfortable homes. With over 120 detailed descriptions, we've covered virtually all the problems that you and your teams will encounter in a home.
Individual Book of Solutions pages are integrated into the GreenPro sales software program. This allows your sales people to use the drawings of problem building assemblies and the solutions you will be installing to help customers see the specific value of your proposals versus the competition.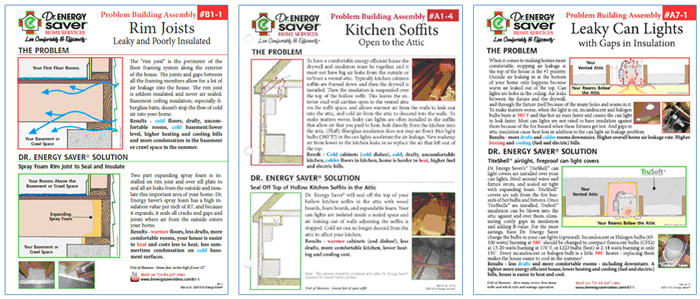 The Book of Solutions is fully integrated into our sales and installation trainings, allowing you to more easily get your sellers and productions teams aligned on the work that needs to be installed to satisfy your customers.
The Book of Solutions also takes into account the different ways our contractors can fix these comfort and energy wasting problems. This tool can be used effectively whether you have spray foam, cellulose and/or rigid foam insulation at your disposal.