Green Flow Sales Process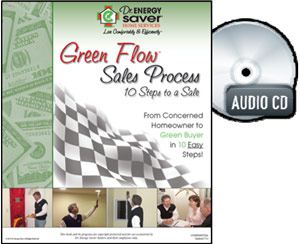 Once you generate a lead for your services, you need to book as many of these leads into appointments for your sales team.
Our dealers have access to a comprehensive appointment center system that will train your call center team how to book these leads into valuable sales calls. Complete training for your team and call center managers on how to use our proven system for booking appointment is provided. Even scripts for following up on canceled calls and unsold proposal are included. You can record your own or use our pre-recorded "on-hold" messages crated by our Eye Star Station team.
While we all have sales superstars (hopefully), you need a sales systems that will product extraordinary results from ordinary salespeople. We have developed a sales system, called Green Flow, which is the best in the industry. It is customer focused and question based. It is easy to teach and easy to learn.
Green Flow is a fully documented system, including scripts, methods, tools and support materials you will need to quickly develop successful sales people. We hold live Sales Boot Camps at Dr. Energy Saver City several times a year, but you and your staff will have access to a wealth of audio and video trainings - which you can use in your own local sales and production meetings.
The sales process incorporates our "Book of Solutions," an encyclopedia of problem building assemblies that cause comfort and energy wasting issues for homeowners, and the solutions you sell and install to fix uncomfortable homes.
Our award-winning sales software program, called "GreenPro," is developed, updated and supported by our own in-house software experts who also happen to be experts in Home Performance, Building Science and HVAC - you'll never find that anywhere!
Overcoming objections is often the most challenging aspect of in home sales for your sales team members. We carefully crafted our "Closing Trail," a no-pressure, question based sales techniques to turn your good sales people into great closers.